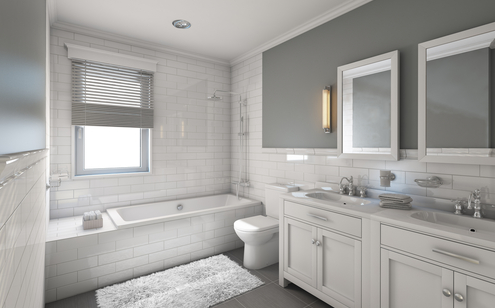 Elderly and Handicap Friendly Bathroom Remodeling
For the elderly and handicapped, utilizing the restroom adequately – whether it is the toilet, sinks, or the shower and bath – can be troublesome. Injuries in the bathroom are more likely for older populations. When remodeling a bathroom for the elderly or handicapped, the main goal is to preventing slipping and falling. For those who have low levels of strength and mobility in their bodies, standing in a shower for longer periods or getting in and out of a bathtub is a difficult and dangerous task. Injuries can be prevented, thanks to remodeling that makes it easier and safer to move about the bathroom. Keep in mind the level of mobility of the person using the bathroom to know what kind of installations and remodels you will need to make accordingly.
Bathtub and showers
Walk-in tubs are the best option, as many safety features are included such as safety bars, seating, and floors that are non-slip. Most walk-in tubs tend to be lower to the ground, making it easier to enter and exit the tub. If a walk-in bathtub is not possible, consider curbless showers. Make sure to install a shower seat, allowing the user to sit, reducing standing time and risks of slipping. Consider including a removable shower head, so the user can bring it down to seat level if necessary.
Tension Pole 
Another option to snatch bars is the strain post, a story to-roof metal bar that can be introduced close to the shower or latrine in your washroom to give elderly relatives another steady structure. Many individuals with more up to date acrylic or fiberglass tubs introduce a strain shaft since tub-mounted snatch bars can break the tub.
Good Lighting 
This is important for anyone who is not familiar with the layout if your bathroom. Good lighting is a basic necessity, as it allows one to see if there is any water on the floor, where handles are, and enables them to use the bathroom safely at night. To maintain a strategic distance from this, ensure that you have introduced a solid nightlight (LED nightlights are a decent decision). Ensure that you likewise have nightlights in the corridor to give an unmistakable way to the washroom.
Raised Toilet Seat 
Something as simple as raising the height of your toilet can make a big difference for seniors and handicapped individuals. The heightened seat makes it a lot easier for users to sit down and stand up. Consider install an ADI-compliant raised toilet seat. You might also want to install one with attached safety bars for extra safety if needed.
Non-slip shower mats and rugs. 
This is another simple approach to prevent falls in the bathroom. Setting a non-slip mat in the shower keeps the senior from falling while showering and a non-slip carpet on the floor outside the shower keeps any slipping once the senior is out of the shower. Non-slip tape is a lower cost alternative for shower container and tub bottoms.
https://www.platinumplumbers.com/wp-content/uploads/2017/02/Untitled5.png
308
495
cuselleration
http://www.platinumplumbers.com/wp-content/uploads/2017/03/logo.jpg
cuselleration
2017-02-28 16:08:56
2021-11-16 23:06:26
Elderly and Handicap Friendly Bathroom Remodeling