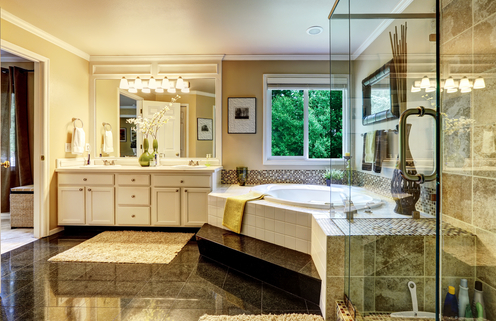 Bathroom Remodeling Mistakes to Avoid
Photo credit: Artazum / shutterstock.com
Remodeling your bathroom is a great way to give a fresh update to your home. It is quite common to see homeowners taking this particular project into their hands. If the individual knows exactly what they want to do, the steps required to do it, and has the time to do it, it is often much better to proceed with bathroom remodeling projects from a "do-it-yourself" angle than to hire an outsider to come in and do it. However, it is important to know that there are mistakes that can be made, and keep in mind that there will be times you will need to hire a professional if you want certain things done.
1. The first mistake that many individuals end up making when it comes to bathroom remodeling is that they fail to obtain necessary permits. This may not make a lot of sense if you are simply laying new tile, or adding a new coat of paint on the bathroom walls. However, if you are making major renovations to the bathroom, such as installing new plumbing fixtures, rearranging the components of your bathroom, or physically increasing the size of the room, it is imperative that you consider the importance of obtaining the appropriate permits.
This may send a sharp sense of dread through you, but permits are created to protect you and others. You acquire these when you want to perform work, and stages, your work is evaluated. It is evaluated for safety. If the work is deemed "unsafe", the inspector will outline what needs to be done to make it safe and will come back for another inspection.
2. The second mistake stems from the fact that many individuals do not prepare for the job in the appropriate manner. This means that they do not adequately prepare the room for the work that they are attempting to do, and they fail to acquire the proper supplies and tools that are necessary for the project. If you are remodeling this room, it is important that you know exactly what you want to do, and how you want to do it.
You should then ensure that you gather the right supplies that are needed. Once this has been completed, you should gather all the necessary tools that will be required to complete the job. Not doing this can cause unnecessary delay, and can put you in some pretty uncomfortable positions. For example, if you are planning on converting your copper pipes to PVC pipes, and you rip apart the old pipe, but do not have an adequate amount of PVC pipe, you may find yourself out of water and necessary plumbing for a while.
3. The third bathroom remodeling mistake that is often made is when the wrong type of products is purchased to save money. For example, there are types of paints that hold up better in the bathroom than other types of paints because they are more moisture resistant, something that is necessary in a room that experiences a lot of moisture and humidity, just as there are certain types of paints that are more appropriate than others, there are particular types of wall and floor materials that are more suitable to use in a bathroom than other rooms. It is important to take a little time and research what products are best suited for this room before purchasing them.
4. The next bathroom remodeling mistake that is commonly made is the failure to take the steps to properly protect yourself while performing the different tasks in the remodeling project. This means that you should wear protective eyewear and protection on the ears when it is necessary. Hard hats and face masks may also be appropriate depending on what type of work is being performed. In addition to this, it is crucial that you NEVER work alone. If an accident does occur, it is best to have someone with you to ensure that you get the help that you need quickly.
5. The next mistake that is made is when an individual "believes" that they can perform a task efficiently, and then they discover that it is beyond their expertise. It is the person that does not admit that they are in over their head that finds that they are in over their head. You should research all jobs before doing them and ensure that you have the required assistance when it is needed. Otherwise, your entire project could fall through – in more ways than one!
6. Don't forget the bathroom fan! People usually forget to install one or to update the one they currently have. If your bathroom does not have proper ventilation (like a window), a fan is crucial in preventing mildew and mold and built up odors.
https://www.platinumplumbers.com/wp-content/uploads/2017/03/Untitled3.png
326
496
cuselleration
http://www.platinumplumbers.com/wp-content/uploads/2017/03/logo.jpg
cuselleration
2017-03-08 13:01:43
2021-11-16 23:06:19
Bathroom Remodeling Mistakes to Avoid